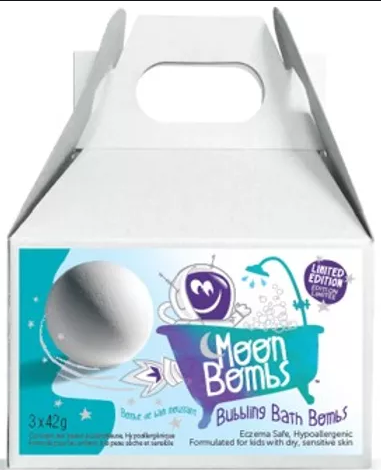 Loot
Loot Moon Bombs (3 pack) 🇨🇦
These hypoallergenic bath bombs don't contain toys... but they DO make a colourless, scentless bubble bath that moisturizes your skin with coconut oil! Even better? It's in a cute little gift box and wrapped in black crinkle paper. That means that everything is recyclable or biodegradable to be friendlier to our world!
Moon Bombs are foaming hypo-allergenic bath fizzies with organic coconut oil & organic colloidal oats. As the Moon Bomb fizzes in the tub, it releases gentle, moisturing bath bubbles. We use Lathanol (sodium Lauryl Sulfoacetate or SLSa), a natural extract from coconuts to create bubbles to soften and sooth sensitive skin.
Ingredients:
Sodum Lauryl Sulfoacetate (Lathanol)*, Organic Coconut Oil, Organic Colloidal Oats, Sodium Bicarbonate, Citric Acid, Aqua.
*  Lathanai (SLSa) is a very gentle soothing bubbling agent, certified organic by ECOCERT. It s not to be confused with Sodium Lauryl Sulphate (SLS), a chemical compound that can irritate skin, eyes, mouth and lungs.
NOTE: This product is hypo-allergenic and has no added scent or colour.
Product Info:
Hand-made
Safe, non-toxic and 100% natural
No pthalates, parabens, chemicals or other nasties
Non-GMO, vegan, gluten-free
Moisturizing bath bomb that creates bath bubbles
Presented in a blue or white gabled gift box
All Loot products are hand-made in Vancouver, Canada
Ingredients sourced in North America
---
Share this Product
---
More from this collection