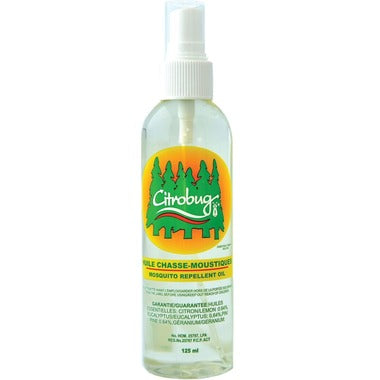 Citrobug-Citrolug
Citrobug Insect Repellent Oil 🇨🇦
100% Natural Mosquito Repellent in spray is made with essential oils such as lemon, camphor, geranium,eucalyptus and pine, It is biodegradable and safe for the whole family!  Very efficent against mosquitoes, ticks and flies. Most effective Natural Repellent available on the Canadian market to date. It is DEET, alcohol and water free. If that wasn't enough, our product is recommended by health professionals! Don't let mosquitos or tics ruin the fun you could have with your family! Take a bottle along with you and enjoy your day out to deconnect!
Sometimes it seems like no matter how much bug spray you put on, the flies never seem to cease! We understand your dilema here which is why we created a bug spray with 100% pure essential oils which repel tics, mosquitos, fruit flies along with many others. Our product has been recommended by health specialist because our unique formula does not include any synthetic molécules or any DEET. It is ideal for any vacation, camping trip, hunting expedition and of course family outings!

Directions for Use: Apply a thin film to exposed skin, avoiding eyes, mouth, wounds, and sensitive, irritated or sunburned skin. To apply to face, spray a small amount on hands and rub on face.  Apply sparingly, only when necessary, and not under clothing. Always supervise applications on children and do not apply to the hands of young children. After returning indoors, wash treated skin and contaminated clothing with soap and water. Reapply at 2 hour intervals only if exposure to mosquitos continues. DO NOT EXCEED 2 APPLICATIONS PER DAY.
Health Canada Pest Control Product Registration Number 25797
Ingredients:
Lemon oil………0.64%
Eucalyptus oil… 0.64%,
Pine needle oil….0.64%,
Geranium oil …..0.64%
Camphor oil……0.21%

Precautions: KEEP OUT OF REACH OF CHILDREN.  DO NOT USE ON CHILDREN, 2 YEARS OLD AND LESS. For external use only. May cause skin reactions on sensitive individuals. Discontinue use if signs of irritation or rash appear.  Can be used safely when used according to the label directions.
---
Share this Product
---
More from this collection